INTRODUCING THE DEAD-EYE TOWEL
KEEPING YOU AND YOUR DISCS READY FOR BATTLE
Are you tired of your towels picking up nature's dandruff during a round? We were too, so we put our heads together and came up with something unique. After about a year of research and testing, the Dead-Eye Towel is an elite upgrade from the towels on your bag today.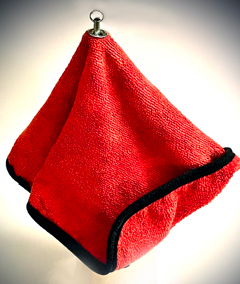 Unique Design
The patent-pending center-punched design prevents it from touching the ground and collecting debris.
Perfect Size
At 16″x16″, it is the optimal size to clean a disc. The center pin allows the towel to spin freely so you always have a fresh spot to take care of business.
Quality Hardware
We use a marine-grade stainless steel grommet designed to hold up in the most grueling of conditions. And our stainless steel pin and ring means you'll never have to worry about rust.
Premium Microfiber
Our towel has two faces – the outside is for cleaning. The shorter pile is great for removing dirt and mud from your disc. Over time, mud will release and naturally fall off as it dries.
The plush inside of the towel soaks up the moisture from the morning dew to those rainy rounds so your disc is ready when you need it.
Simple Care
The Dead-Eye Towel is machine wash and dry. Just throw it in and it comes out just like new. More information about caring for your towel can be found HERE.
Attachment Options
Want to easily pull your towel off your bag from time to time? Sure. Need it secured? Absolutely. We have options a-plenty in our customization section when you place your order.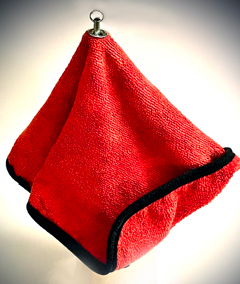 Stainless Steel Components
Grommet, pin and ring are all stainless steel to hold up in all conditions.
Dual Purpose
This towel is so two-faced. The outside cleans. The inside dries.
Right Size
Measuring 16" X 16" - the towel is just the right size for disc golf.
Center-Punched Design
Being center-punched, this towel does not drag the ground.
Premium Microfiber
This towel is made to outperform all of your other towels. Less effort and maximum results.
The Dead-Eye Towel in Crimson